GREEK ORTHODOX CHURCH OF SAINT ANTHONY
ΕΛΛΗΝΙΚΗ ΟΡΘΟΔΟΞΟΣ EKKΛHΣIA ΑΓΙΟΥ ΑΝΤΩΝΙΟΥ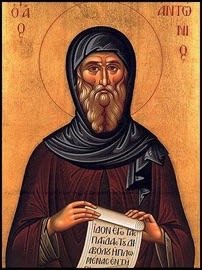 43rd Annual Name Day Dinner Dance
Saturday, January 21, 2017
310 West Wheat Road, Vineland, NJ 08360
Featuring Live Music by Apollonia
Adults $50
Teens 13-19 $25
Children 12 and under $15
Cocktail hour 7:00PM
Dinner served at 8:30PM
For Reservations Please Call 856-794-5155 to reserve you table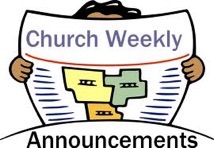 Click Greek Festival Link Above to go to web site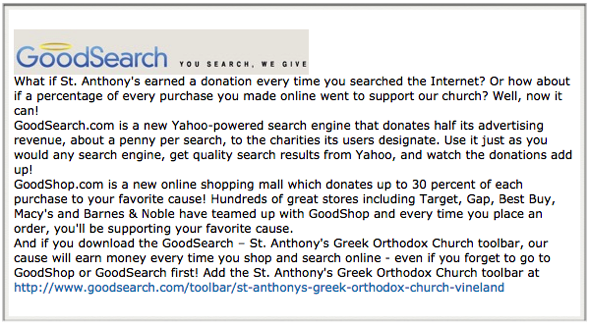 What if St. Anthony's earned a donation every time you searched the Internet? Or how about if a percentage of every purchase you made online went to support our church? Well, now it can!
GoodSearch.com is a new Yahoo-powered search engine that donates half its advertising revenue, about a penny per search, to the charities its users designate. Use it just as you would any search engine, get quality search results from Yahoo, and watch the donations add up!
GoodShop.com is a new online shopping mall which donates up to 30 percent of each purchase to your favorite cause! Hundreds of great stores including Target, Gap, Best Buy, Macy's and Barnes & Noble have teamed up with GoodShop and every time you place an order, you'll be supporting your favorite cause.
And if you download the GoodSearch – St. Anthony's Greek Orthodox Church toolbar, our cause will earn money every time you shop and search online - even if you forget to go to GoodShop or GoodSearch first! Add the St. Anthony's Greek Orthodox Church toolbar at http://www.goodsearch.com/toolbar/st-anthonys-greek-orthodox-church-vineland
Connecting students and young professionals with mentors, leaders and career resources
There is less than 2 months left to apply for Heritage Greece 2016! Heritage Greece is a once in a life time educational and cultural experience developed by the National Hellenic Society. Every year Greek-American college students embark on a two week trip to Greece, hosted by the American College of Greece (ACG), where they explore their Greek heritage, culture and identity with a peer group of students from the US and Greece. Heritage Greece was developed by the National Hellenic Society (NHS) as part of its mission to celebrate and preserve Greek heritage in the United States.
Don't miss your chance to be one of the many students who have been able to connect with their heritage and make many great friends along the way.
Deadline for applications is March 25, 2016.
For more information:
http://archive.constantcontact.com/fs121/1102546510465/archive/1123745902946.html
Apply now!
http://www.acg.edu/…/…/heritage-greece/apply-heritage-greece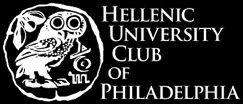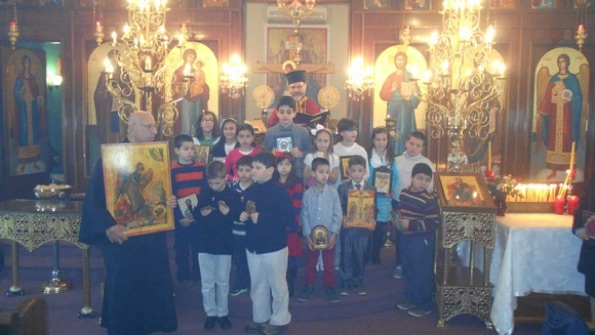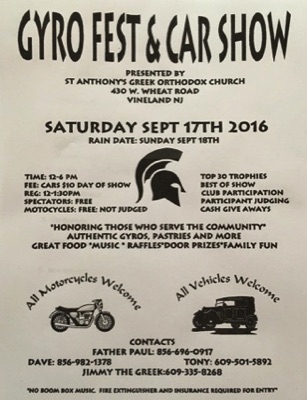 IONIAN VILLAGE 2016
Dear Parishiones and Friends of St Anthony,
Every summer our youth has the opportunity of an excellent vacation in Greece in the Archdiocese's Ionian Village. Please check the link below and consider sending your children:
http://www.ionianvillage.org/
There are also opportunities for adults as well to serve in the various staff positions.
Please contact the Office of Ionian Village at (212) 570-3536.
The Christmas Kalanda was a great success!
The singing of Kalanda this year was a great success. Over a 6-day period and a total of 35 hours, we sang in 111 homes and businesses, visiting almost all of our parishioners and beyond, and traveled 587 miles (1761 miles all vehicles combined) and brought them the joy and happiness of the holidays and the message of the birth of our Lord Jesus Christ. We raised a total of $7,020.00 for the needs of the church. The Kalanda is a beautiful tradition in Greece and our
Kalanda gives our children the chance to participate, learn and continue this beautiful custom. We thank everyone for inviting us into your homes and for your generosity. We also thank all the participants: COORDINATOR: Pan Kaskabas.
VEHICLES: We used the vehicles of Tony Kaskabas, Christina Seitis, Denise Dendrinos, Mark Papadaniil, Kathy Mastorides and Pan Kaskabas. DRIVERS: Lefty Klekos, Doug Albrecht, Christina Sofkos, Denise Dendrinos, Markos Papadaniil, Kathy Mastoridis, Pavlos Tserpelis. SANTA CLAUS: Pete Doulis, Pavlos Tserpelis. MUSICIANS: Dr. Paul Mastoridis and Gregory
Fotakis (Clarinet), Pantelis Frangakis and Pan Kaskabas (Bouzouki), Stamatis Seitis (Tambourine). CHORUS: Bessie Klekos - Karmen & Georgia Giannikopoulos - Elektra & Raphel Sofkos - Dr. Mike, Niko and Luka Villani - Kathy, Charlotte, Phillip and Katerina Mastoridis - Dr. George, Eleni & Yanni Dendrinos - Dr.Tom, Christina and George Tassakis - Sofia & Samuel
Albrecht - Aggeliki & Evgenia Fotakis - Crystal Sotiropoulos - Mercedes Crum - Stephanie Ballassi - Eleni Seitis - Nick & Angela Kaskabas - Carol Duble - Angela Doulis - Saki Mertis - Isabel & Niki Kaskabas - Katina Kaskabas – Kyratso, Dimitris & Maria Papadaniil - Stratis & Tina Christodoulou - George Armelinos - Niko Kanos - and Fr. Sokratis.
WE THANK the following restaurants:
Eric's (Irakli and Kathy Isihos), Bruno's(Tony and Katina Kaskabas), Dino's(John and Giannoula
Dinos), Michael's(Mike and Popi Isihos), Harry (Harry the Greek) & Liberty Zografos, and Katina and Noel Doucett, for providing dinner for the carolers at the end of each day. Additionally we thank Dr. Tom & Helen Tassakis, Dr George & Denise Dendrinos, Dr Paul & Kathy Mastoridis and Ted & Helen Gassis for the food they offered to the Carolers during their breaks.
HAPPY NEW YEAR! See you next Christmas
We Thank
Despina Kanos and Electra Sofkos for repairing the priest's and the acolytes' vestments, Evangelos Alexoudis for making a red set of Prothesis covers, and Elias Topalis and Kostas Kanakis for various valuable constructions and repairs in the church.
St. Anthony's Greek Orthodox Church, Vineland, NJ Donates Baptismal Font to Manila, Philippines.
The Exarchate of the Philippines is a jurisdiction of the Ecumenical Patriarchate of Constantinople governed by the Orthodox Metropolitanate of Hong Kong and Southeast Asia (OMHKSEA). As of 1 September 2009, there are some 560 members of this jurisdiction in the country, around 40 of those being expatriates. There are three parishes and three chapels in the Philippines. Below are two pictures taken at the Annunciation Orthodox Cathedral displaying the newly donated baptismal font.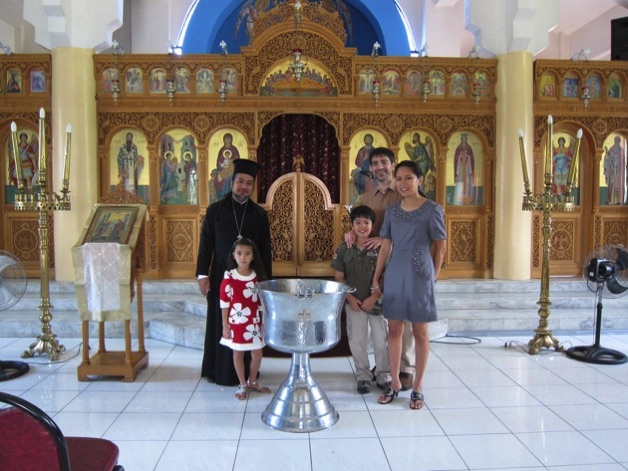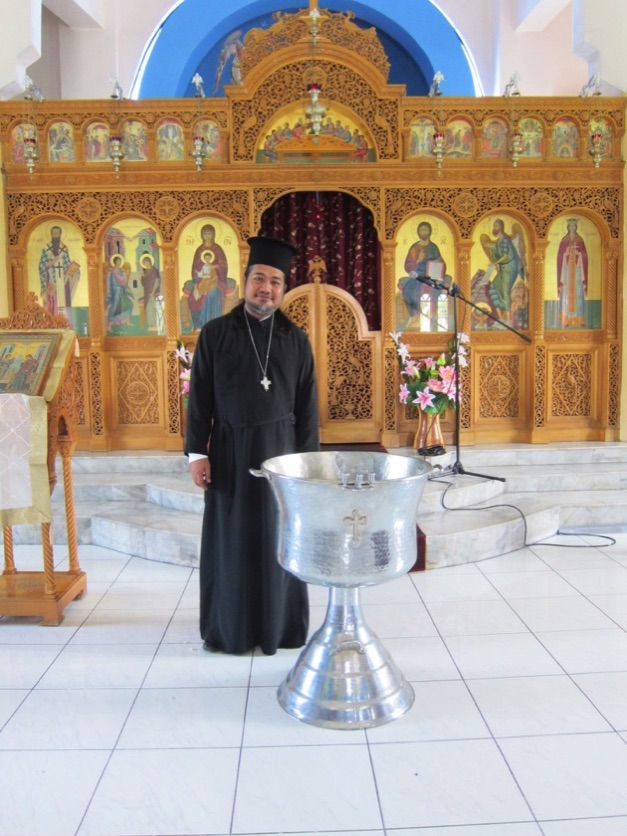 Fr. James from Manila, Philippines, Annunciation Orthodox Church in Manila
The Annunciation church was consecrated by Ecumenical Patriarch Bartholomew I on March 5, 2000, during his visit to the Philippines. Two other churches, in Cataingan and Los Baños, have since been established, along with a few other chapels.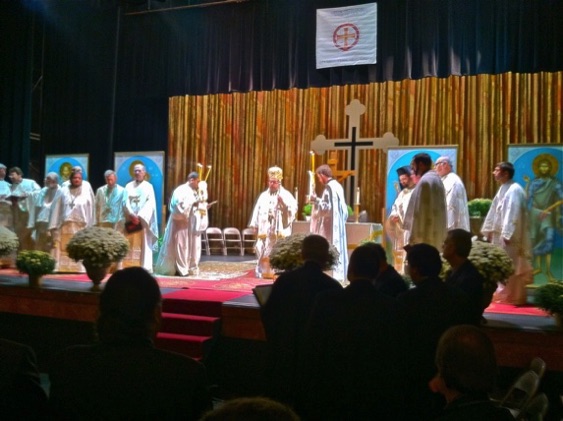 Asbury Park Holy Cross Celebration 2011 with His Eminence Metropolitan Evangelos
The Tassakis, Doulis, Obelenus and Mastoridis families were representing St. Anthony Parish.
Congratulations to the following GOYANs for
their courageous efforts during the Cross Catching Competition:
Christina Tassakis, George Tassakis, George Obelenus and Angela Doulis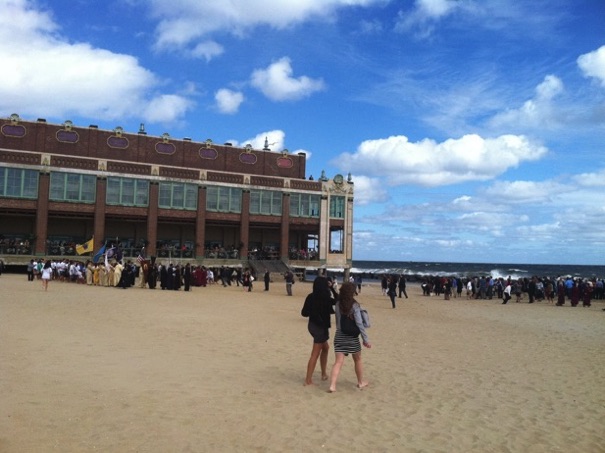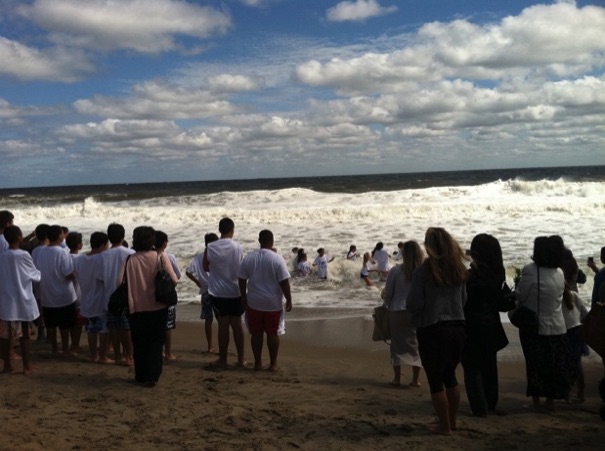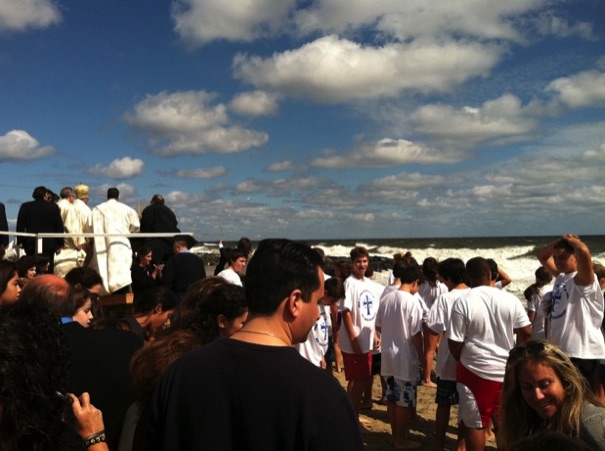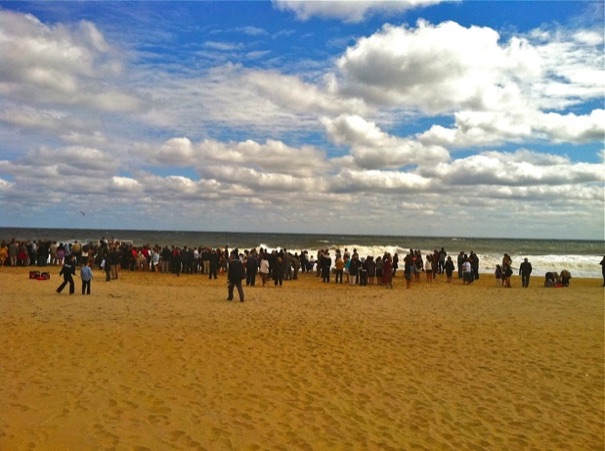 St Anthony Parish participates in Vineland's 150 year Anniversary Parade August 4, 2011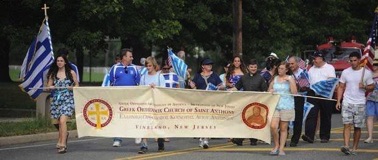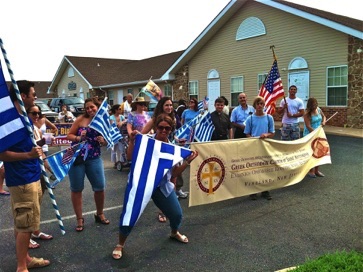 WE START RECYCLING AT THE CHURCH!
In line with the environmental friendliness of the Orthodox Church and especially the commitment of the Ecumenical Patriarchate in preaching that the protection of the environment is a religious responsibility, we are starting the first program of recycling at our church. A red square bucket has been added next to the black trash bin in the basement to collect recyclables (paper, soft drink cans, plastic water bottles, etc.). Because the City of Vineland will not pick recyclables at the location of the church Fr. Sokratis will be taking them and putting them out in his own bucket for pickup at his house. The next goal is to extend this program to include the Community Center. We thank you all for your collaboration to make this program successful and thus fulfill one of our missions as Orthodox Christians.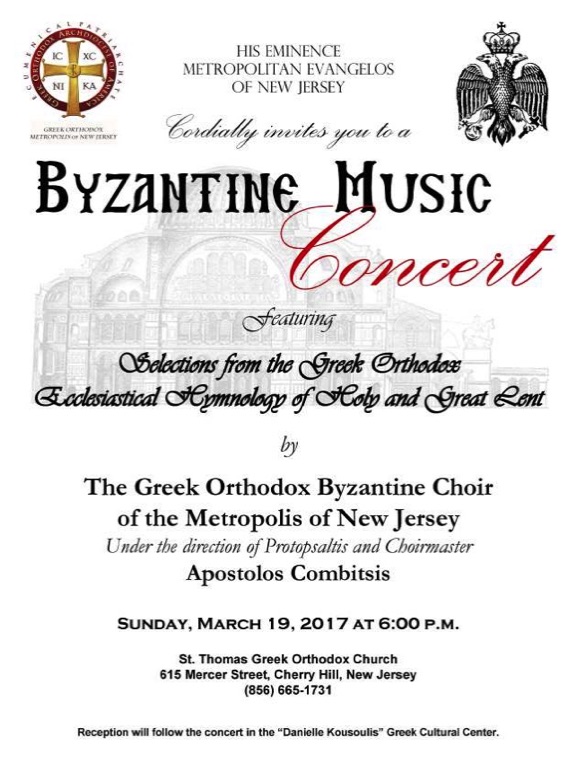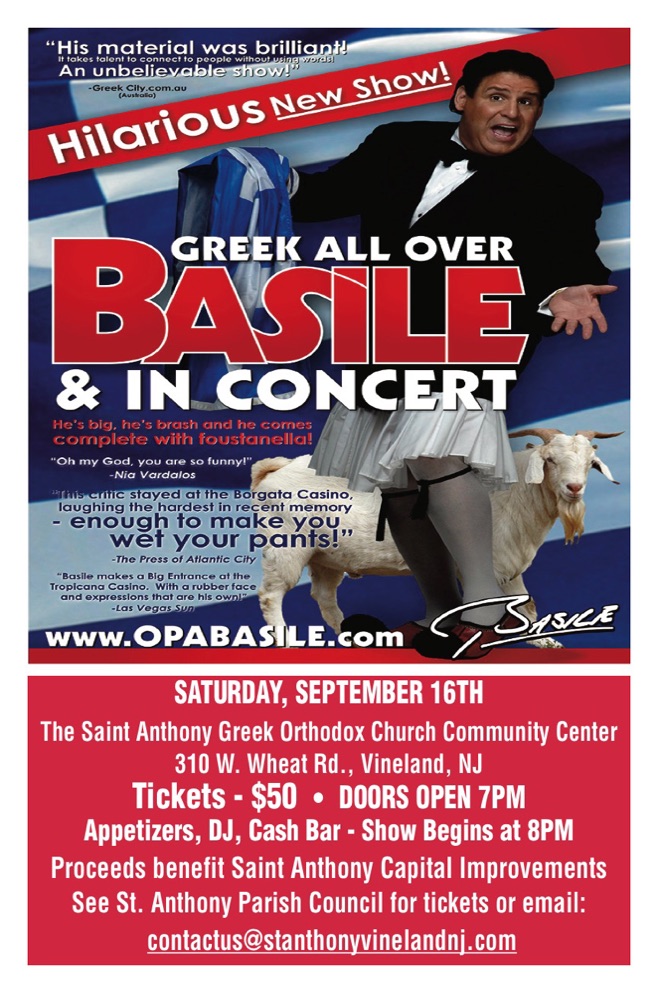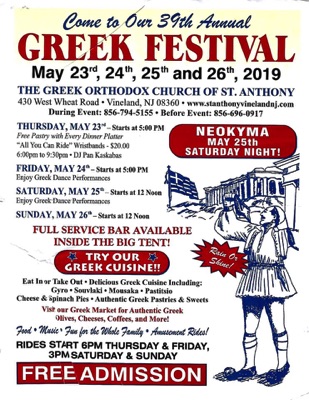 2019 Annual BID N BUY!
The LADIES PHILOPTOCHOS SOCIETY of the GREEK ORTHODOX CHURCH OF SAINT ANTHONY
410 West Wheat Road, Vineland, New Jersey 08360
are proud to present their 21th annual bid n'buy Saturday, October 19, 2019.
Doors open 3:00pm