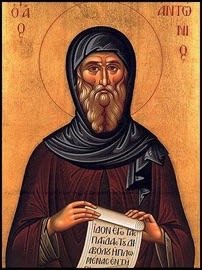 The Patron Saint of our parish is Saint Anthony, the 4th century hermit monk in the desert of Egypt, one of the founders of Orthodox monasticism. Please check the life of our Patron Saint on the LIFE OF SAINT ANTHONY page. On his Feast Day on January 17 our parish celebrates its Name Day usually honored with the presence of our Metropolitan bishop Evangelos of New Jersey, with full liturgical celebrations and a great Dinner-Dance. Look out for coming related announcements below.
We invite you to check the history and future plans of our parish with interesting vintage photos of our past and colorful drawings of our future by visiting the corresponding OUR HISTORY and EXPANSION PROJECT pages.
Our worship services are celebrated in a good mix of Greek and English in the traditional ancient Byzantine style at the following hours:
Worship Schedule for both Sundays and Weekdays when scheduled:
•Orthros (Matins) is celebrated at 8:30am-10:00am.
•Divine Liturgy is celebrated at 10:00am-12:00pm.
•Evening Services (Vespers, Salutations to the Theotokos, Holy Week, etc.) are celebrated beginning at 7:00pm.
Our worship schedule is very rich. We celebrate all the Dominical (of the Lord) and Theometorical (of the Mother of God) Feasts as well as Feasts of the Cross and of many Saints, as well as Salutations and Supplications to the Theotokos, Saturdays of the Souls, Liturgies of Presanctified Gifts, complete Holy Week services and many sacraments.
For the schedule of services on specific dates and for details please see our CALENDAR page.
In addition to an extensive worship life and sacraments we offer:
•Adult Religious Education classes.
•Byzantine chant classes and practice.
•Youth programs (GOYA, JOY, HOPE).
•Greek language and culture School.
•A charity program run by our Philoptochos (lovers of the poor) Society of our ladies.
•An AHEPA chapter.
•A Greek Festival.
•A Greek Market selling Greek food and other items operating on Sundays after the Divine Liturgy or any time by order.
•Our Hall at our Community Center for rent for your events.
•And plenty of opportunities for you to help us improve our operation, continue our fascinating new buildings project and in many other ways that will help us fulfill our mission.
For details on each of these please check the corresponding pages.